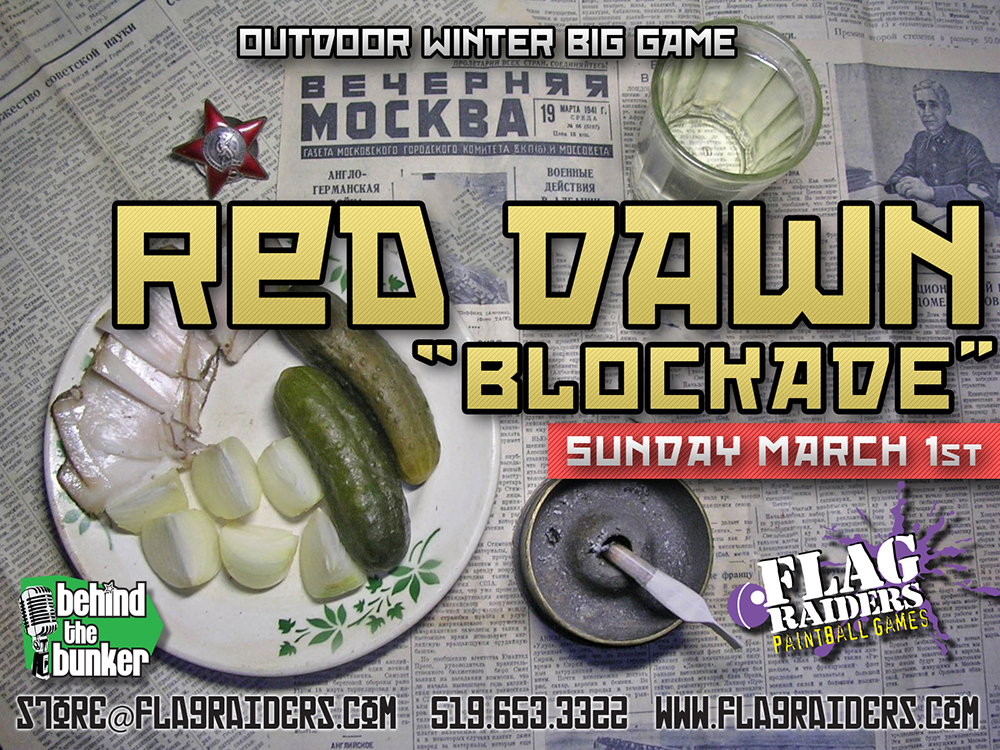 Red Dawn 15 "BLOCKADE"
Winter Big Game
Sunday March 1st, 2020
Traditionally a near sell-out since the inaugural event in 2006. Red Dawn has become more than just the kick-off event of the paintball season in Ontario – It's become a sporting spectacle, with players often dressed in authentic Russian Winter camouflage and Rebel attire as they try to blend into the snow covered terrain.   This year Red Dawn 15 "BLOCKADE" will be no different. The battle begins with the Communist Forces firmly entrenched in the City and Military Outpost, the young Rebel Militia must launch a two pronged attack to reopen the supply lines which the Communist Forces have blocked.  We are now recruiting warriors, beginners or seasoned veterans for this annual epic winter battle.
This series is based loosely on the original 1985 fictional movie of the same name, after a Russian, Cuban, Chinese and North Korean lead invasion of the United States. This winter series big game pits two Superpower's together as they face off to see who will gain dominance for the day and bragging rights for the year.   Scores for Big Games are based on player eliminations and territory domination. 
Pencil in the first Sunday of March on your calendar every year and join us at Flag Raiders Paintball for Red Dawn a Winter Big Game.
Sign your waiver here… 
https://www.vantora.com/Paintball/ro/waiver/default.asp?ev=165014928
Red Dawn is something you will not want to miss for more information visit, www.flagraiders.com or email store@flagraiders.com for full recruitment packages or up to the minute news briefs and promotional videos  www.facebook.com/flagraiders , www.instragram.com/flag_raiders_paintball & www.youtube.com/flagraiders or call to register 519-653-3322.  Packages, including team selection, paintballs, smoke generators and rental gear can be purchased online at https://flag-raiders-paintball.myshopify.com/search?q=red+dawn.  Complete rental packages are available; this event is open to all players, individuals, groups or teams regardless of skill level and experience.
Advance pricing ends Friday February 21st, 2020
No refunds are available for this event.
Drop us an email and we will get back to you with answers right away!
Flag Raiders Indoor Field & Store
483 Conestogo Road
Waterloo, ON
Flag Raiders Outdoor Field
425 Bingemans Centre Drive
Kitchener, ON
Phone: 519-653-3322
bookings@flagraiders.com